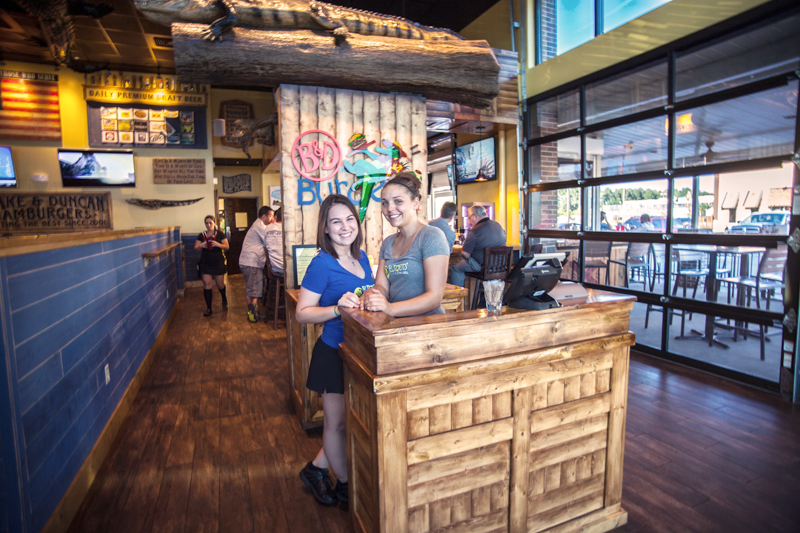 Join Our Team
If you are interested in working at B&D Burgers, please use the link below to start the application process. Once your application is submitted online, we will contact you for further notice.
WE ARE CURRENTLY HIRING
all positions including:
Bartenders
Servers
Hosts
Our Server Position
Who We Are
When you step inside of B&D Burgers we provide you with Premium Burgers, Premium Beers and you Bring the Premium Service. You will be surrounded by the best of everything: Local ingredients, amazing burgers, and incredible people. We're here to create amazing experiences for people, whether they're a guest in our restaurants or part of our amazing staff.
Who You Are
• Known as a Rockstar at your last serving job. Guests constantly request your section and you know the names of all the regulars!
What You'll Gain
• Flexible scheduling – full and part-time
• Discounted Meals when working and visiting
• The best training in the restaurant industry
• Promotion opportunities, as far as you want to go
As a Server, You Will
• Create awesome, memorable experiences for every guest
• Become a menu expert and help guests make menu selections
• Celebrate every birthday, anniversary, and special occasion with our guests
• Stand for extended periods of time and lift up to 35 lbs.
• Continuously bend, reach, twist, and use your hands and arms. The Right Person Needs The Following Experience And Qualities
• Ensures every guest has the complete B&D experience
• Dynamic personality with a strong passion for the hospitality industry
• Server experience preferred, but not necessary
• Knowledge of basic restaurant hospitality and fully engaged, service-minded attitude
• Must be alert to Team Member and Guest needs
Job Duties:
• Punch in, sign in, report to management on time and in full uniform for each shift
• Sell guests by communicating with extensive product knowledge
• Works with teamwork always in mind
• Compute guest checks, operate Toast POS system
• Maintains restaurant safety and sanitation
• Is aware of and abides by all liquor service laws
• Perform dining room set up, running side work and closing duties
• Serve guests according to established procedures
• Participate in table and dining room clean up
• Must pass alcohol and food certification exam
• Perform other related duties as assigned by the manager